About the Artist, Jefferey Lange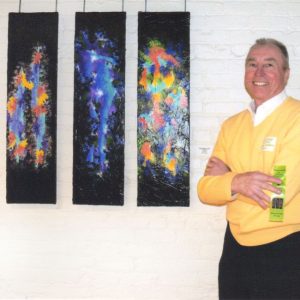 There is nothing average or typical about my preparation to enter the world of interpretive rendition. My first calling was as a Sociology and History teacher (I have a Bachelor's degree in History and a Master's degree in Sociology) which I found challenging and exciting. However, I was never very far from the colorful arrangement of objects and the people who engaged in artful expression. Feeding off of other people's creations was never enough gratification for me.
Thus, I became a "closet" artist throughout the entirety of my thirty-two year teaching career. Now the avocation is my mission.
Self taught; always exploring new methods; growing more adventurous with each new exploration, I feel that I have arrived at a place where the canvas is my singular tool of expression. I LOVE COLOR and I LOVE TEXTURE! That is my driving impulse and I am fascinated by the arrangement of color and texture in my new and challenging combinations. Each new endeavor examines my limits………which I wish to stretch each time out. I am here, I am alive and this is how I declare my comprehension.
Over the years I have searched for my own identifying stamp and I found it in canvas construction.
To enhance texture I have gone one step further through the use of plaster. Preparation of the canvas with the plaster in place requires about one hour per canvas, but the time is worth it because the uneven texture presents shadowing outcomes that no other surface can provide. There are times when I know exactly what the outcome is going to be, however, for the most part the result is often an accident of experiment.